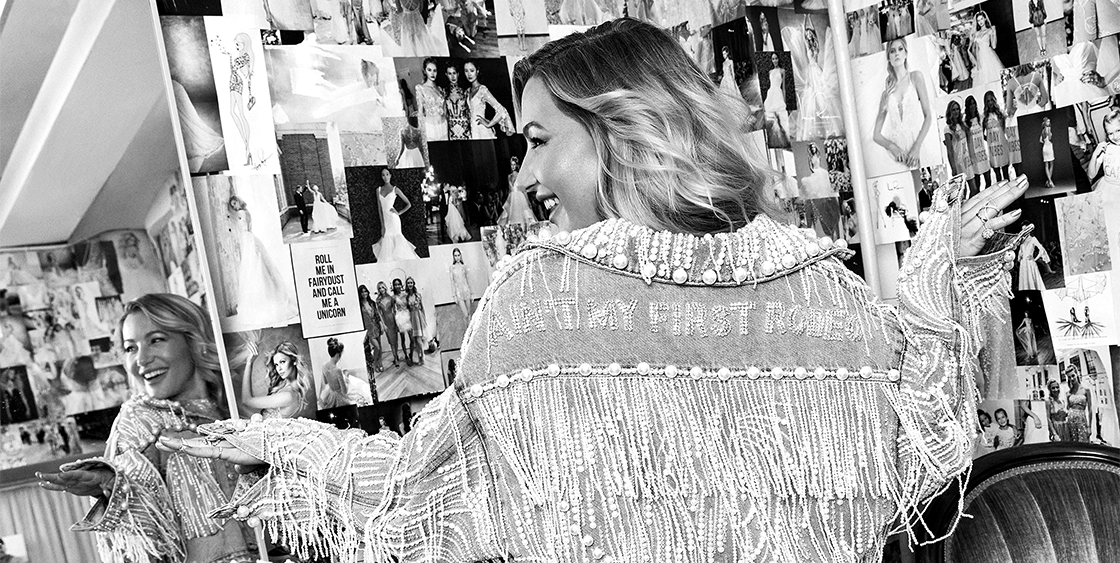 Hayley Paige Gutman's legal drama with wedding dress company JLM Couture killed her dream job in fashion
I remember being thrilled when I signed my first lead designer contract. It was 2011 and I was desperate to get my work out there and give my all to building a brand. I was so impatient, in fact, that I didn't even hire a lawyer when bridal house JLM Couture approached me with the opportunity I'd dreamed of all my life: running my own line of dresses. bride. I read the paperwork and had reservations, but… got a namesake line and felt like I shouldn't be difficult or push back. I didn't want there to be a chance of losing my shot. Now, of course, I understand why more experienced people don't take a company at its word.
Over the next eight years, I lived that dream: Hayley Paige was a hit — and the numbers showed it. It was a trip to see such happy brides in my designs, and I put everything I had into the brand, besides becoming a regular at say yes to the dress and launch and manage a personal Instagram account (@MissHayleyPaige), which I grew to over a million followers. With each step and success, the brand and I became more connected, I felt more and more confident in my abilities, and I had more hope that one day I could find a new contract that would better reflect my contributions and My value.
I started negotiating this new contract in early 2019, and as soon as I decided to defend what I deserved (this time with lawyers), the company I had given everything for turned against me. I felt beaten, undervalued, manipulated… even harassed and intimidated. I knew this was a typical corporate tactic – bullying the less powerful party to get financially favorable terms – but the opposing legal team completely stopped responding to me. Eventually, while I was still working for the company, they sued me. All from the management team who assured me when I started that we would have plenty of chances to update that first contract later.
In 2020, a federal judge sided with JLM to enforce his interpretation of the operating agreement, which effectively states that I am not able to use my own name, post without permission on social accounts that I created or design bridal wear – for years – after I left the company. The name part sounds so ridiculous that I've categorized it as nonsense: I can't use my name in any business or commercial capacity, like starting an LLC or selling my own designs online – I can't even say my name in public or use my initials without fear of repercussions.
And it got even meaner. My fiancé was sued for tagging me on Instagram and our podcast (even though he never signed a contract with JLM), and I was found in contempt of court for scribbling on IGs Stories from my new account (@Everythingshimmersonthegram)—doodles that weren't even bridal drawings. According to the judge, I am not allowed to publicly express any hope of doing what I love.
It is not finished. We appealed. And we are waiting and praying for something to change. But this situation made one thing clear: I should never have signed a contract that did not value me. I've learned the hard way that young designers desperate for a break are an easy target for successful companies looking to become even more successful. Never let someone else define your value. And always hire a lawyer.
Update on 02/14/22: The Southern District of New York court has ruled that Hayley can access logins from @MissHayleyPaige TikTok, Instagram, Facebook, YouTube and Pinterest accounts working in conjunction with JLM, provided she posts within the guidelines of her original contract and of the previous court. decision (i.e. must post JLM-approved content and refrain from personal updates or third-party advertisements).
Editor's note

JLM denied harassing or intimidating Hayley and argued that the court's decisions were "based on the rights and provisions that [Hayley] voluntarily, knowingly and intelligently accepted, which [she] flagrantly violated. JLM also claims that Hayley told them at the time that she had an attorney.
This content is created and maintained by a third party, and uploaded to this page to help users provide their email addresses. You may be able to find more information about this and similar content on piano.io