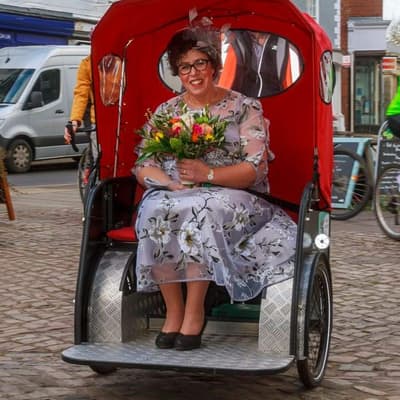 The Monmouth bride uses the charity's trishaw as transport for her wedding day
A newlywed couple from Monmouth chose an unconventional but eco-friendly way to get to their wedding, opting for the Bridges Center trishaw. As supporters of the Bridges Centre, newlyweds Lisa and Lee James wanted to use and support local businesses as much as possible for their big day. After discovering that there were no wedding car rentals in Monmouth, Lisa and Lee drove to the Bridges Center to arrange transportation for their special day.
The trishaw bikes are part of the Cycling Without Age program of the Monmouth-based independent charity, the Bridges Centre, which has always aimed to improve the well-being of the local community. The project generally offers the possibility for the elderly or people with reduced mobility to get around Monmouth on a trishaw. However, this time the bike was used to get the bride to her wedding on time.
"I have supported Bridges and the great work they are doing. I even completed the London Marathon in 2015 to raise money for the centre. For me, what better way to get to my wedding than by pedicab, where I could also support a local charity close to my heart at the same time.
Lisa James – married
Lisa was joined by other supporters and friends of local running group Rock up and Run as the bell-ringing entourage roamed the streets of Monmouth. Lisa's rider, Simon Jones, who is already a volunteer with Cycling Without Age, volunteered his services for Lisa and Lee's wedding. With the ringing of bicycles and wedding bells, the group rode down the main street with Lisa as she carried her bouquet, passers-by waving and smiling broadly as the entourage cycled by.
"We were delighted to be approached by Lisa who asked if she could use the trishaw to get to her wedding. Lisa is a longtime supporter of Bridges Charity, she is also a close friend of an elderly man who recently used the pedicab to get out of his flat for the first time in a few years.
Marianne Piper – Team Leader and Volunteer Coordinator at Bridges Center
The Cycling Without Age program was originally set up in Denmark to allow people who couldn't access a traditional bicycle to get out of their homes, meet new people, see new places and, most importantly, get away from it all. having fun and having fun. The rides are always free and the bikes are propelled by volunteers.
Marianne Piper continued: "Each week we pull students out of the Over Monnow Elementary Schools Special Needs Resource Unit which is a highlight of our week. We see children lucky enough to feel the wind in their hair, laugh as we ride speed bumps, and see parts of Monmouth they've never seen before.
"It's fantastic to see such wonderful people supporting such a great cause in Monmouthshire. Bridges Center is an integral community asset for Monmouth, being the heart of the community. I would like to congratulate the happy couple, Lisa and Lee, and wish them a happy and healthy life together.
Cllr Penny Jones – Cabinet Member for Social Care
The Bridges Center recently took delivery of more trishaw bikes to provide rides in Caldicot and Llanfoist. The charity is always looking for a team of warm and friendly volunteers over the age of 18 to become 'drivers' and 'co-drivers' with a basic level of fitness, although the bikes are battery operated. to help navigate the streets of Monmouthshire. If you think you'd like to get involved as a passenger or volunteer as a pilot/co-pilot, say "yes" and email [email protected] or call 07980 941946 for more information.