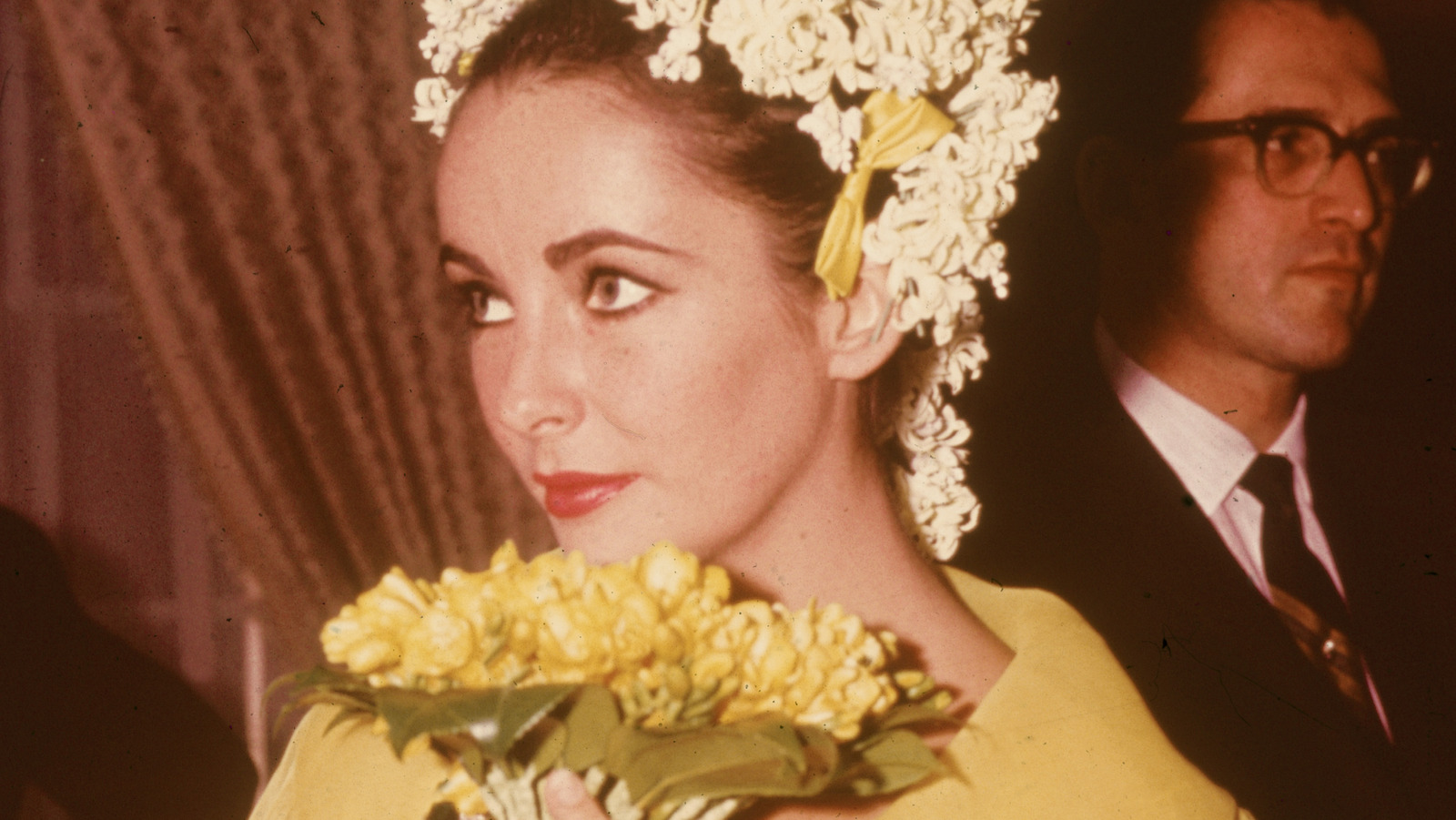 The Story of Elizabeth Taylor's Yellow Wedding Dress Explained
Archives Hulton/Getty Images
Oscar-winning actress and bejeweled icon Elizabeth Taylor is known for her storied career, which spans nearly six decades (per IMDb). However, one of her most impressive accomplishments was planning eight weddings without tearing her hair out.
Between 1950 and 1991, Elizabeth Taylor has been married eight times to seven different men. Her love affair with relationships began at the age of 18 when she married her first husband, hotel heir and playboy Conrad Hilton Jr. However, according to Taylor, the relationship did not last. due to Hilton's abusive manners. Moving on quickly from his tumultuous first marriage, Taylor's second husband, Michael Wilding, offered a more mature lifestyle. Wilding, who was nearly 40 when he married 19-year-old Taylor, was also an actor. The two had two children together, before going their separate ways five years after their marriage. Taylor's third marriage, to producer Mike Todd, ended tragically when Todd died in a plane crash. When Taylor met her late husband's close friend, singer Eddie Fisher, the rumors nearly imploded with excitement — likely due to the fact that Eddie Fisher was married to Debbie Reynolds at the time.
However, Taylor's marriage to Eddie Fisher didn't stand a chance the second she laid eyes on her "Cleopatra" co-star Richard Burton. The two fell madly in love, and that's where the story of the yellow wedding dress begins.
Always a bride, never a wife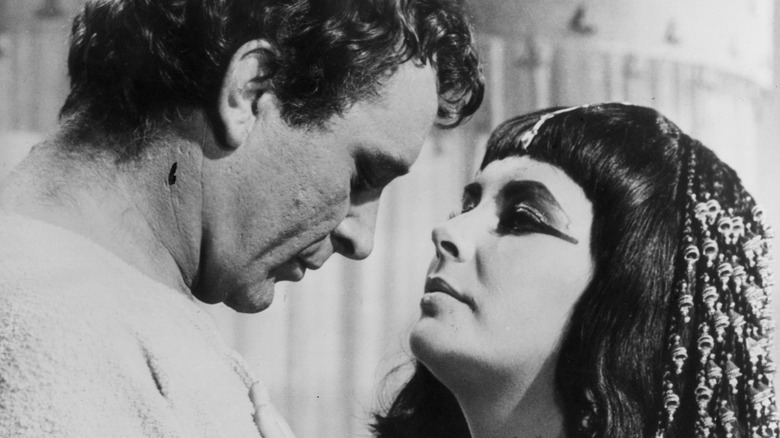 Archives Hulton/Getty Images
In the early 1960s, Elizabeth Taylor played one of her most famous roles: Cleopatra. While the notoriously long film would go on to win six Oscars, it would forever be known as the setting where Elizabeth Taylor and Richard Burton began their salacious affair. Much like Antony and Cleopatra, the two had an undeniable and outrageous chemistry that set the world on fire. Taylor and Burton were still married to other people, but that didn't stop them from becoming bedfellows.
According to Taylor herself, "I've always admitted that I'm ruled by my passions, and I can't pretend I didn't know what I was doing when I got involved with Richard" (via people magazine). Even though Taylor and Burton quickly fell in love with each other, there was one entity that didn't appreciate this date; the Vatican newspaper issued a statement calling the Taylor-Burton affair an "erotic vagrancy".
Yet their love persisted and the couple left their respective partners to marry in 1964. When it came time for Taylor to choose her fourth wedding dress, she chose to incorporate something that was important to the story. origin of the couple.
Elizabeth Taylor channels Cleopatra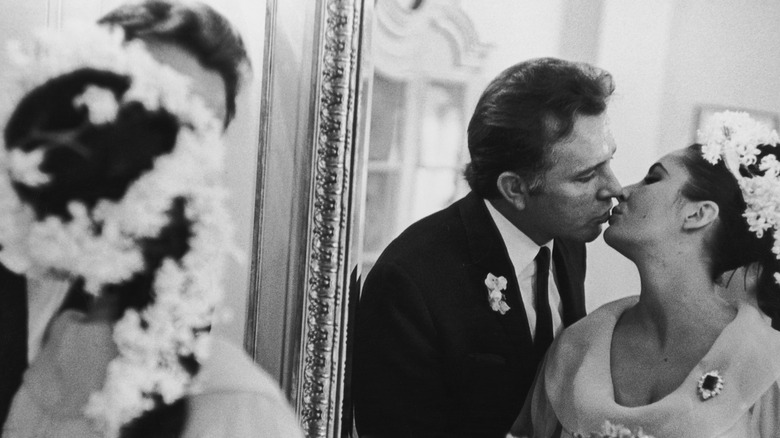 Express/Getty Images
Long before Jennifer Lopez and Ben Affleck baited the "paparazzi" by canoeing on a yacht in her "Jenny From The Block" music video (and again in real life almost 10 years later, per person), Elizabeth Taylor and Richard Burton had done it first.
In fact, the moment passers-by caught the famous couple together on a yacht — while they were in Italy, filming 'Cleopatra' — was a turning point in the celebrities' private lives, according to The secret of marriage.
The public was hungry for information, drooling at the idea of ​​a prestigious and glamorous love story. When it came time for Elizabeth Taylor and Richard Burton to turn their indiscretions into a legitimate marriage, the public watched closely. However, Liz and Dick opted for a semi-private ceremony, probably tired of the media circus.
As an ode to why the two first fell in love, Elizabeth Taylor hired "Cleopatra" costume designer Irene Sharaff to create her knee-length canary yellow wedding dress. According to vogue, the chiffon fabric provided a softer contrast to her legendary metallic gold dress in the film. Taylor also wore white hyacinths in her hair, a Mediterranean flower symbolizing innocence and purity, according to Florgeous.
Elizabeth Taylor and Richard Burton's marriage lasted 10 years before divorcing in 1974. They briefly reconciled and remarried the year after their divorce, but the second marriage unfortunately didn't last either.